Transform Your Exton PA Home
with the Resilient, Lasting Beauty of Hardie Board Siding
Tired of dealing with leaks, diminished curb appeal, and constant moisture issues that wear down your home's siding? The low-maintenance home of your dreams is within reach with James Hardie siding.
Whether you're dealing with rotting wood siding, faded vinyl, or one of Exton PA biggest problems—failing stucco— a James Hardie siding replacement can solve your siding frustrations for good.
Protect your home and enjoy lasting high-end curb appeal—with top-performing, durable James Hardie fiber cement.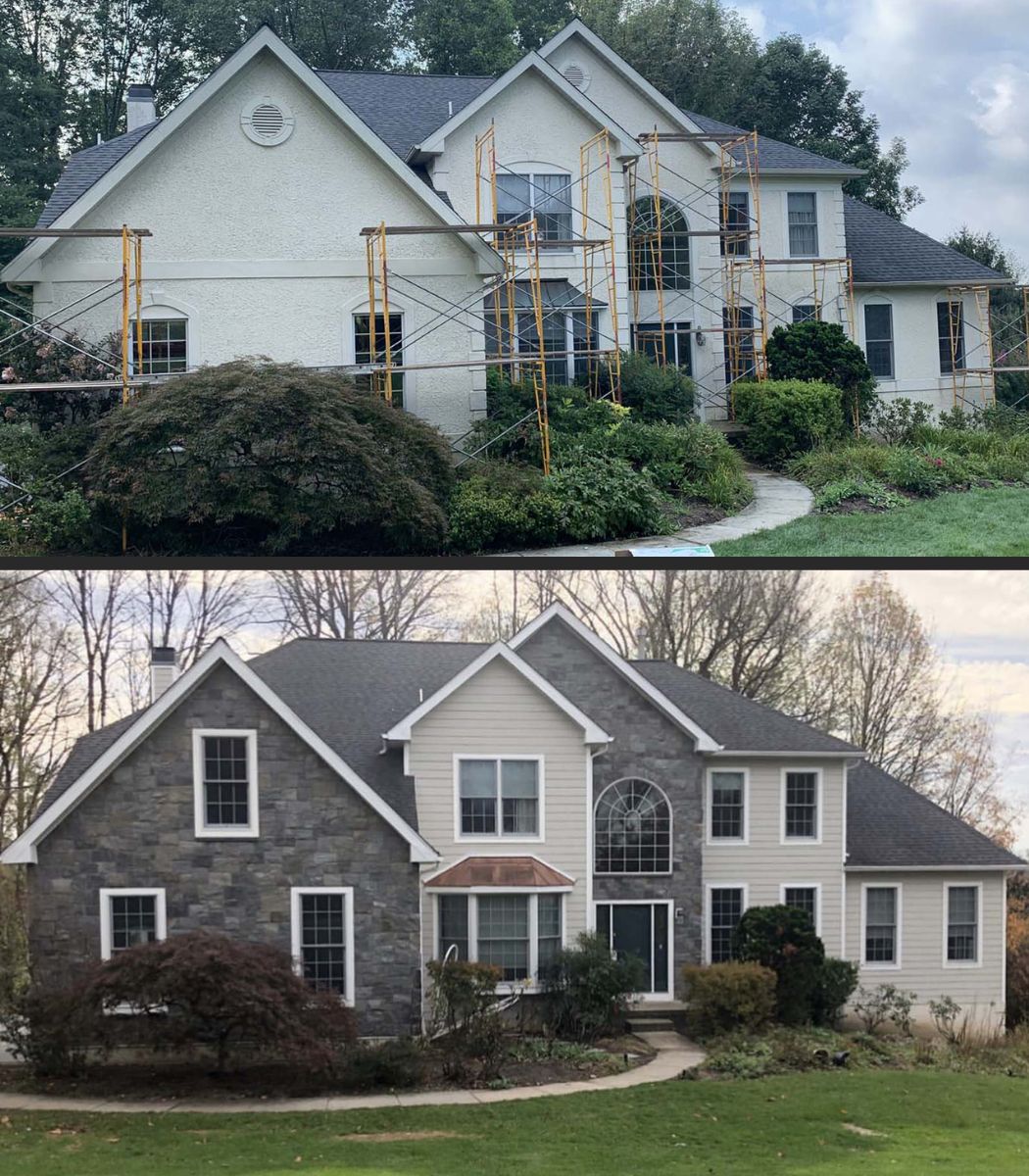 CONTACT US TODAY
"*" indicates required fields
What Makes James Hardie Siding Perfect for the Exton PA Area?
Let's face it—siding problems are all too common in Exton PA. The weather ups-and-downs, rainy springs and snowy winters constantly wear away at your home, leading to moisture damage and deterioration.
To fix your home's damaged siding (including stucco failure) once and for all, our expert team recommends a siding solution that lasts for decades. That's what Hardie siding does for your home.
You'll love the results James Hardie gives you!
This remarkable, reliable siding beats any other kind of siding replacement in so many ways:
Cost-effective — While it may cost a little more initially, Hardie siding is more cost-effective in the long run, lasting longer than almost any other type of siding.
No moisture deterioration — Made of moisture-resistant fiber cement, Hardie siding doesn't rot or get soggy, and requires little to no maintenance.
Gorgeous appearance — Known for its high-end looks, Hardie siding resists fading, repels pests, and stands up to weather and wear while retaining its lovely curb appeal.
Consistent, enduring performance — Hardie siding is so durable, it comes with a 30-year, non-prorated transferable warranty, and it often lasts as much as 50-100 years!
Other siding materials, including stucco, just can't compete—which is why Hardie siding is the top choice for homeowners from coast to coast.
"I have never had a more pleasant experience during home renovations. They are kind, helpful, and very skilled. They did a wonderful job with our stucco remediation and it looks great. I could not recommend Frank more highly."
Why Choose Kenny Construction Group?
We know you have many choices when it comes to caring for your home, and that's why our team goes the extra mile to deliver results that give you joy year after year.
Our Commitment to You
When you choose our team, you get expert James Hardie siding services and custom siding solutions directly from our pros. All our work is done in-house by our courteous, skilled siding technicians.
We respond quickly to your questions and communicate step by step so you know exactly what to expect throughout your home upgrades.
Your Hardie Board siding replacement will be simple, streamlined, and professional so you can rely on a job well done with superior craftsmanship.
And if you need stucco remediation, we'll do it with precision and thoroughness—removing the failing material, repairing rotted wood, installing proper flashings to code, and installing your new siding. We're not happy til you're happy.
Our Simple James Hardie Siding Process

Free Estimate
We'll take the time to listen to your wants and needs to come up with an accurate estimate so you can begin planning for your siding replacement. Design
This is the fun part! You'll get to pick the materials and colors so you can be sure your house is a place you love coming home to each day. Enjoy Your Home
After installation, you'll be able to sit back and trust that your new siding was expertly installed to last.
Achieve Your Dream Home with Lovely, Lasting James Hardie Siding
Don't put up any longer with a deteriorating exterior that puts your home at risk. Invest in the top-notch looks and performance you deserve with gorgeous, lasting, moisture-resistant James Hardie fiber cement siding installed by the pros at Kenny Construction Group.
Reach out to us today for a free consultation and estimate—and make your dream home a reality!